University of California, Berkeley now offers Certified Electronic Diplomas (CeDiploma) starting with the Spring 2020 and Summer 2020 graduating classes! The CeDiploma is available at no cost in addition to the traditional paper diploma and your official transcript.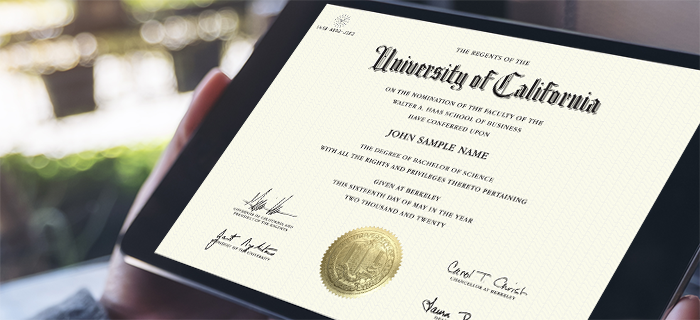 Watch an Overview video to learn more about the CeDiploma!
Instructions:
The CeDiploma will be available for download in CalCentral at the same time that traditional paper diplomas are mailed (typically 4 months after the end of term)
Students will be notified via an email from info@cecredentialtrust.com when the credential is ready with detailed instructions.
Key Benefits of a CeDiploma
It's more than a paper credential. A CeDiploma offers:
an official, secure, and verifiable PDF version of your accomplishment.
unlimited sharing with family, friends, employers and social media.
proof of education with only the important details.
a simple document for employers to read and understand.
Each credential provides a unique 12-digit Certified Electronic Document Identifier (CeDiD) located on the upper left hand corner of your CeDiploma.
Resume enhancement
Expedite the verification process by providing your CeDiD and validation URL on your resume.
Visit the CeCredential website to learn more about the certified electronic credential.
Credential Validation Demo
Highly Secure:
Each CeDiploma can be independently validated via the UC Berkeley Registrar website by future employers, State Government Licensing Agencies, and any other entity that wishes to validate your achievement.
The document is digitally signed and encrypted, providing greater trust and acceptance.

For security reasons, the electronic credential cannot be printed.
Video Overview
Note: The CeDiploma is only available beginning with the Spring 2020 graduating class.
Frequently Asked Questions
When should I expect my electronic diploma to be available?
Fall diplomas will be ready at the end of April, Spring diplomas will be ready at the end of September and Summer diplomas will be ready at the end of November.
Where can I find more information about my paper diploma?
How can I ensure my electronic diploma's authenticity?
How can I share my electronic diploma through social media?
Can I change my diploma address now?
You will be sent an email with instructions and deadlines for updating your diploma mailing address.
How do I verify where my paper diploma will be mailed? 
If you still have questions, review the vendor FAQ or email diplomas@berkeley.edu. 
For additional information about the Certified Electronic Credential features, trademarks and patents, please visit cecredentialtrust.com.